Tèct / Zinols.
Skiing operating times & prices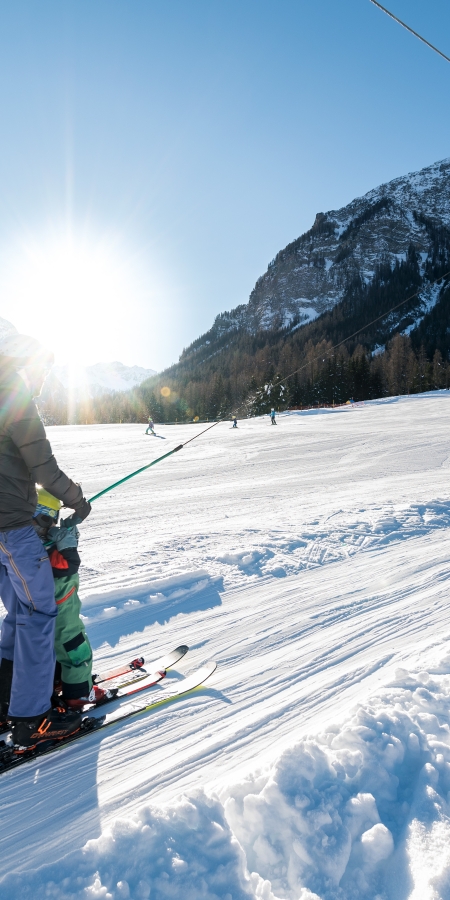 Winter season 2022/2023.
17 December 2022 - 12 March 2023
Tèct skilift and childrens area open until 20 March, possibly until 27 March)
Operating times
Tèct and Zinols skilifts
9.30 am to 4.00 pm or as posted
Pinocchiolift and Magic carpet
9.30 am to 4.00 pm or as posted
Last piste inspection
Daily at 4.15 pm on all marked pistes; from Bergün – Pros da Darlux chairlift (section 1) at 5 pm (or as posted). Outside these operating hours the slopes are closed; they are therefore not secured against hazards such as avalanche blasting and snow-cats operating with cable winches. Warning: there is a danger to life!
Day and multi-day tickets Darlux (incl. Tèct/Zinols)
| | Adults | Youth (16-18 y) / senior | Children (6-15 y) |
| --- | --- | --- | --- |
| 1 day | CHF 45.00 | CHF 39.00 | CHF 26.00 |
| 2 days | CHF 84.00 | CHF 71.00 | CHF 49.00 |
| 3 days | CHF 122.00 | CHF 102.00 | CHF 71.00 |
| 4 days | CHF 155.00 | CHF 130.00 | CHF 90.00 |
| 5 days | CHF 185.00 | CHF 155.00 | CHF 107.00 |
| 6 days | CHF 212.00 | CHF 177.00 | CHF 123.00 |
| 7 days | CHF 233.00 | CHF 196.00 | CHF 136.00 |
| | 1 day | 2 days | 3 days | 4 days | 5 days | 6 days | 7 days |
| --- | --- | --- | --- | --- | --- | --- | --- |
| Adults | CHF 45.00 | CHF 84.00 | CHF 122.00 | CHF 155.00 | CHF 185.00 | CHF 212.00 | CHF 233.00 |
| Youth (16-18 y) / senior | CHF 39.00 | CHF 71.00 | CHF 102.00 | CHF 130.00 | CHF 155.00 | CHF 177.00 | CHF 196.00 |
| Children (6-15 y) | CHF 26.00 | CHF 49.00 | CHF 71.00 | CHF 90.00 | CHF 107.00 | CHF 123.00 | CHF 136.00 |
Day and multi-day tickets Tèct/Zinols
| | Adults | Youth (16-18 y) / senior | Children (6-15 y) |
| --- | --- | --- | --- |
| 1 day | CHF 35.00 | CHF 29.00 | CHF 21.00 |
| 2 days | CHF 65.00 | CHF 54.00 | CHF 39.00 |
| 3 days | CHF 94.00 | CHF 78.00 | CHF 56.00 |
| 4 days | CHF 118.00 | CHF 100.00 | CHF 72.00 |
| 5 days | CHF 141.00 | CHF 120.00 | CHF 86.00 |
| 6 days | CHF 161.00 | CHF 137.00 | CHF 98.00 |
| 7 days | CHF 179.00 | CHF 152.00 | CHF 108.00 |
| | 1 day | 2 days | 3 days | 4 days | 5 days | 6 days | 7 days |
| --- | --- | --- | --- | --- | --- | --- | --- |
| Adults | CHF 35.00 | CHF 65.00 | CHF 94.00 | CHF 118.00 | CHF 141.00 | CHF 161.00 | CHF 179.00 |
| Youth (16-18 y) / senior | CHF 29.00 | CHF 54.00 | CHF 78.00 | CHF 100.00 | CHF 120.00 | CHF 137.00 | CHF 152.00 |
| Children (6-15 y) | CHF 21.00 | CHF 39.00 | CHF 56.00 | CHF 72.00 | CHF 86.00 | CHF 98.00 | CHF 108.00 |
Half-day tickets Tèct/Zinols
| | Adults | Youth (16-18 y) / senior | Children (6-15 y) |
| --- | --- | --- | --- |
| until / from 12.00 pm | CHF 23.00 | CHF 20.00 | CHF 14.00 |
| | until / from 12.00 pm |
| --- | --- |
| Adults | CHF 23.00 |
| Youth (16-18 y) / senior | CHF 20.00 |
| Children (6-15 y) | CHF 14.00 |
Family tickets Tèct/Zinols
| | |
| --- | --- |
| Day ticket family | flat-rate CHF 90.00 |
| Half day ticket family | flat-rate CHF 60.00 |
| 1 week (6 days) familyticket | flat-rate CHF 540.00 |
Night skiing Tèct skilift
| Adults | Youth (16-18 y.) / seniors | Children (6-15 y) |
| --- | --- | --- |
| CHF 12.00 | CHF 10.00 | CHF 6.00 |
| | |
| --- | --- |
| Adults | CHF 12.00 |
| Youth (16-18 y.) / seniors | CHF 10.00 |
| Children (6-15 y) | CHF 6.00 |
Sport package (Ski resorts including sledge runs)
| | Adults | Youth (16-18 y) / senior | Children (6-15 y) |
| --- | --- | --- | --- |
| 1 day | CHF 57.00 | CHF 57.00 | CHF 32.00 |
| 6 days | CHF 275.00 | CHF 275.00 | CHF 160.00 |
| | 1 day | 6 days |
| --- | --- | --- |
| Adults | CHF 57.00 | CHF 275.00 |
| Youth (16-18 y) / senior | CHF 57.00 | CHF 275.00 |
| Children (6-15 y) | CHF 32.00 | CHF 160.00 |