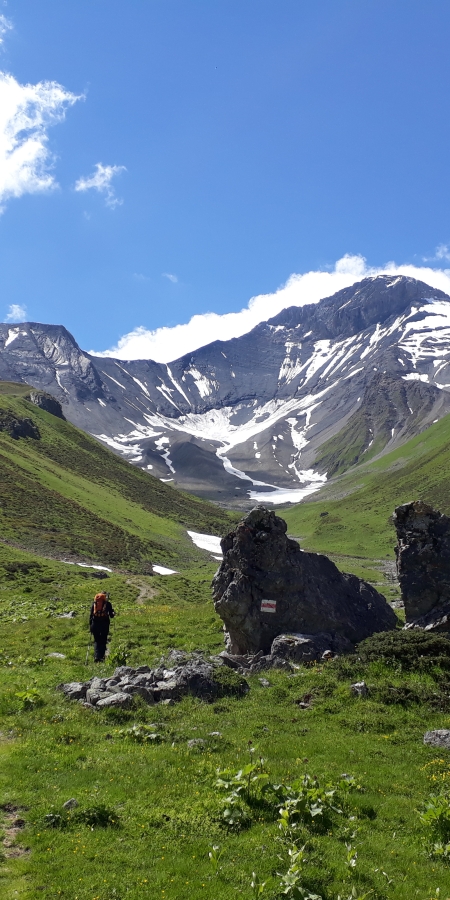 The alpine mountain tour in the Kesch region between Davos and Albula!
On the way in the middle of the Grisons mountains, leave everyday life in the valley. Experience the quiet and spectacular world of the high mountains on foot between Davos and the Albula Valley.
The Kesch Trek is accessible from the beginning of July to the end of September, but snow must still be expected.
Service
1 overnight stay in a multi-bedded room with half board in the Walserhuus Sertig
1 overnight stay in a multi-bedded room with half board in the Kesch-Hütte SAC
1 overnight stay in a multi-bedded room with half board in the Es-cha-Hütte SAC
1 overnight stay in a double room with half board in a partner hotel of your choice:
Bergün: Hotel Piz Ela, Hotel Garni Albula
Preda: Hotel Preda Kulm
Kesch-Trek Lunch Bag
On request: Discounted hiking map
On request: Packed lunch
On request: Extra night in the Hotel Ochsen in Davos (Kesch-Trek special)
Vegetarian menus and lunch packages on offer, vegan menus only on request directly from the hosts.
Cancellations / No-Show Fees
1.1 Cancellations, changes and postponements of reservations are possible free of charge at the latest 2 days before the reserved overnight stay until 4.00 p.m. by e-mail to info@berguen-filisur.ch or by telephone.
1.2 The host (hut warden/hotelier) is entitled to charge the no-show fee for cancellations and postponements of reservations or changes in the number of persons that are not reported or are reported too late.
1.3 The no-show fee pursuant to Art. 1.2 shall not apply if the guest proves in writing by means of receipts that the use of the reserved service was made impossible due to weather events (confirmed severe weather warning from MeteoSwiss for said route and said day or the trip had to be interrupted due to illness or accident. The host
(hut warden/hotelier) must be informed directly in these cases by 6.00 p.m. on the evening before the reserved overnight stay.
Protective measures Covid-19 for guests in SAC huts
It is obligatory to bring the following on your trip:
    sleeping bag (thin silk or cotton sleeping bag)
    Pillowcase ca. 40x60 cm
    Towel
    Waste bag (take waste back down to the valley)
    Disinfectants
    Protective Mask
From Monday, 13 September 2021, there will be a new obligation to show a Covid certificate in restaurants of accommodation (hotel, huts, etc.). 
Further information can be found on the website of the Federal Office of Public Health. https://www.bag.admin.ch/
Persons who are neither recovered nor vaccinated require the following for overnight stays in Swiss Alpine Club huts:
- PCR test - validity 72 hrs.
or
- Antigen rapid test - validity 48 hrs.
These tests can be done at the Davos hospital. www.spitaldavos.ch
| | | |
| --- | --- | --- |
| Adults & Teens (from 12 years) | CHF 360.00 | Euro 345.00 |
| Adults & Teens (from 12 years) SAC/Alpenclub member | CHF 340.00 | Euro 325.00 |
| Children (up to 12 years) | CHF 200.00 | Euro 195.00 |
| | | |
| --- | --- | --- |
| Adults & Teens (from 12 years) | Adults & Teens (from 12 years) SAC/Alpenclub member | Children (up to 12 years) |
| CHF 360.00 | CHF 340.00 | CHF 200.00 |
| Euro 345.00 | Euro 325.00 | Euro 195.00 |
Kesch-Trek spezial (Extra night in the Hotel Ochsen)
| | | |
| --- | --- | --- |
| Adults & Teens (from 12 years) | CHF 465.00 | Euro 445.00 |
| Adults & Teens (from 12 years) SAC/Alpenclub Member | CHF 445.00 | Euro 425.00 |
| Children (up to 12 years) | CHF 272.00 | Euro 265.00 |
| | | |
| --- | --- | --- |
| Adults & Teens (from 12 years) | Adults & Teens (from 12 years) SAC/Alpenclub Member | Children (up to 12 years) |
| CHF 465.00 | CHF 445.00 | CHF 272.00 |
| Euro 445.00 | Euro 425.00 | Euro 265.00 |
| | | |
| --- | --- | --- |
| Hiking map 258 T Bergün/Bravuogn 1:50'000 | CHF 18.00 | Euro 18.00 |
| Packed lunch (sandwich, fruit, bar) | CHF 12.00 | Euro 12.00 |
| | |
| --- | --- |
| Hiking map 258 T Bergün/Bravuogn 1:50'000 | Packed lunch (sandwich, fruit, bar) |
| CHF 18.00 | CHF 12.00 |
| Euro 18.00 | Euro 12.00 |
Bookable from Spring 2022