Snowy forests, wintry mountains and untouched nature guarantee a unique snow experience!
Guided Tours
Would you like to be accompanied on a snowshoe hike? Mark Sport Bergün offers guided tours on request.
Mark Sport AG
Veja Alvra 46
7482 Bergün/Bravuogn
Tel. +41 (0)81 407 11 65
info@marksport.ch
www.marksport.ch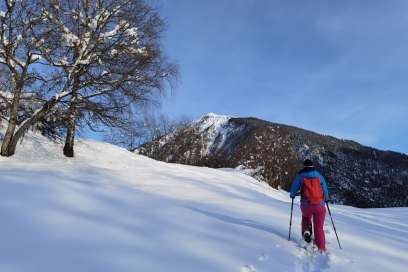 To ensure that wild animals are not excessively disturbed by people's recreational activities, wildlife rest zones and wildlife protection areas have been established to protect the animals. It is important to know the zones and not to enter them or to enter them only on instructed routes.
Sicherheit & Haftung
Das bewegen in freiem Gelände erfordert sorgfältige Planung und den Respekt vor der Natur. Sie finden auf unserer Webseite Informationen, die Sie unterstützen.  Das Begehen von Schneeschuhtrails inkl. ausgeschilderte Routen sowie die Durchführung von Skitouren geschieht auf eigene Gefahr.