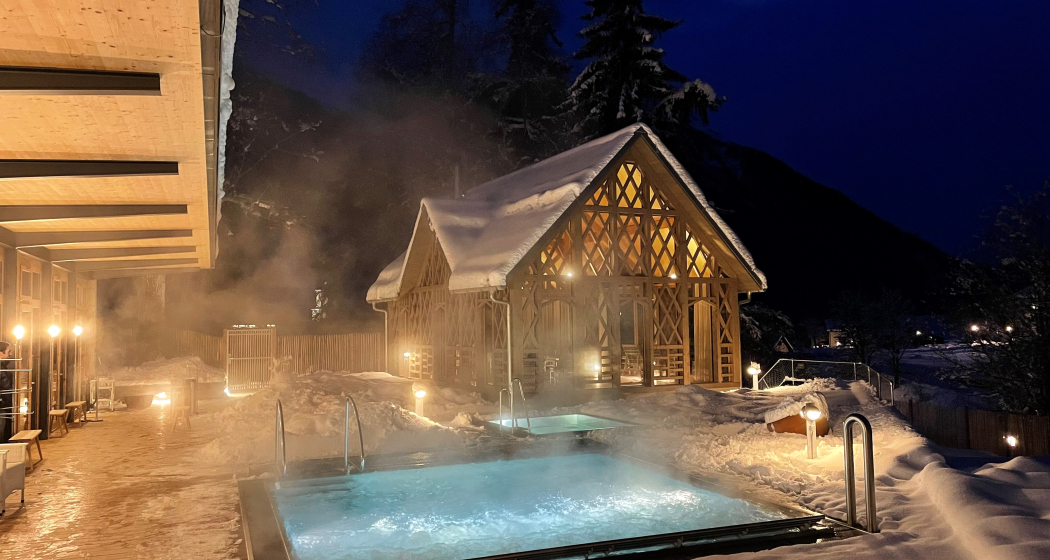 Bubble pool (approx. 36 degrees), cooling pool (approx. 11 degrees),
sauna in the historical ice cellar*
Relaxation pavilion and relaxation room
Massage**
* The sauna area is a textile-free zone and therefore only accessible to adults aged 16 and over. Sauna towels are available on site. The sauna is heated to around 80 degrees each time.
** The TEN therapist Sonja Guldimann usually works Thursday afternoons, Fridays and Saturdays all day in the KurBad.
9th december 2023 untill 1st april 2024
Monday to friday: 2.00 to 8.00 p.m.
Saturnday to sunday: 11.00 a.m. to 8.00 p.m.
*children only untill 5.00 p.m.
Adults: CHF 30.00
Children under 16 years: CHF 20.00
bathrobe on request: CHF 10.00
*for babies and toddlers swim diapers are obligatory (available on site) CHF 3.00
Duration of stay approx. 2 hours
Reservation strongly recommended
Reservations for non Kurhaus guests max. 24 hours in advance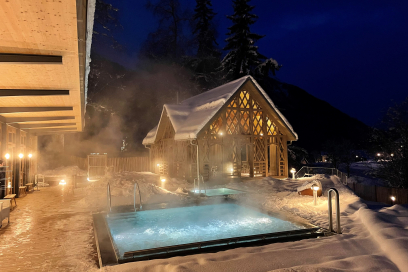 from January 1, 2024  Mondays KurBadNight until 10.00 pm.
Kurhaus Bergün AG
Veja Grusaida 9
7482 Bergün 
Tel.: +41 (0)81 407 22 22
info@kurhausberguen.ch
www.kurhausberguen.ch