Offer
Curling on the natural ice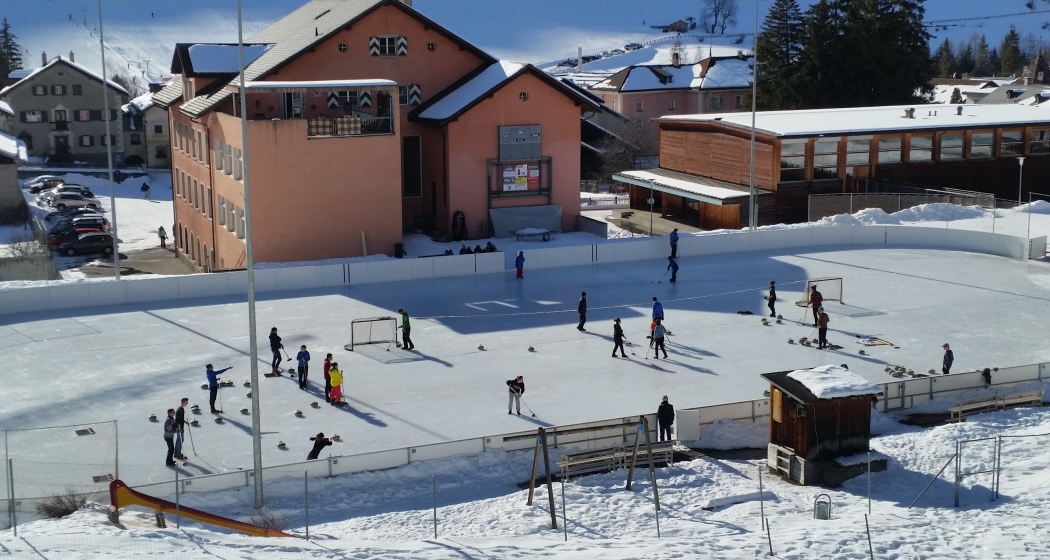 For beginners and advanced
Discover the world of curling in a taster course. The Bergün Curling Club is happy to introduce you to this popular winter sport. Advanced players may also use the court and equipment independently.
Playing times by arrangement
Make an appointment with us for a taster session. Curling is possible during the normal opening hours of the ice rink and in good ice conditions. The natural ice rink in Bergün is located between the school and the Kurhaus hotel.
Prices
Adults                            CHF 20.00
Children until 16 years CHF 10.00
Registration
Registration is required by 3pm the day before.
Minimum 8 persons.
The price includes the use of the ice rink, curling stones, brooms and sliders.
Equipment
Shoes suitable for ice (no moon boots), everything else will be provided.
Contact and registration
Curling Club Bergün
Pasqualino Leuzzi
Tel.:   +41 (0)81 407 11 50
Natel: +41 (0)79 694 68 81
selina-leuzzi@bluewin.ch
Schnupperkurs für Gruppen
Vereinbaren Sie mit Pasqualino Leuzzi vom CCB einen Termin bis spätestens um 15.00 Uhr des Vortages. Curling spielen ist während den regulären Öffnungszeiten des Eisfeldes möglich.
Anmeldung für Gruppen: 
Pasqualino Leuzzi
selina-leuzzi@bluewin.ch
Tel.: +41 (0)81 407 11 50 
Handy: +41 (0)79 694 68 81
Eistaugliche Schuhe (keine Moon-Boots), alles andere wird zur Verfügung gestellt.
Erwachsene: CHF 25.00
Kinder bis 16 Jahre: CHF 10.00
inkl. Eisfeldbenutzung, Steine, Besen und Slider