Sommerangebot Bus Alpin
Bus Alpin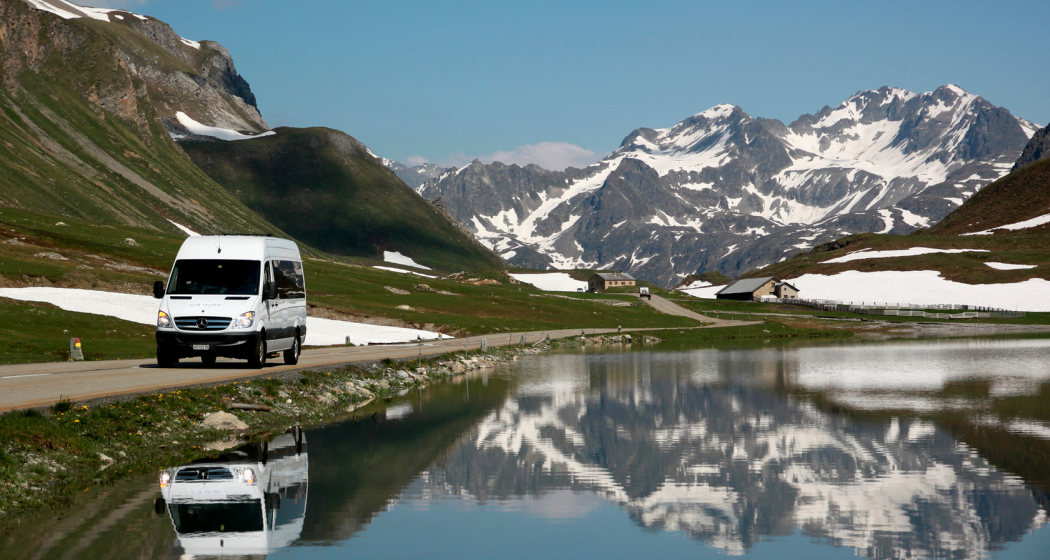 On the way to Val Tuors or the Albula Pass with the Alpine Taxi.
Dates
Daily:  25.06. – 23.10.2022
Reservation: until 1 hour before departure
Tariffs
For prices, please refer to the official Bus alpin brochure, available at tourist offices and holiday accommodation.
All official tickets are not valid, there are no reductions with guest cards.
Outward journey Val Tuors (call bus, Tel. +41 78 680 35 00)
| | | | |
| --- | --- | --- | --- |
| Bergün Bahnhof | 09.16 | 12.30 | 15.50 |
| Val Tuors Davant | 09.28 | 12.43 | 16.03 |
| Val Tuors Chants | 09.33 | 12.48 | 16.08 |
| | | | |
| --- | --- | --- | --- |
| Val Tuors Chants | 09.45 | 12.50 | 16.10 |
| Val Tuors Davant | 09.50 | 12.55 | 16.15 |
| Bergün Bahnhof | 10.03 | 13.08 | 16.28 |
Outward journey Albulapass (call bus, Tel. +41 79 211 77 55)
| | | | | |
| --- | --- | --- | --- | --- |
| Chamues-ch, plaz | 08.35 | 10.35 | 13.35 | 15.35 |
| La Punt Chamues-ch Bhf | 08.40 | 10.40 | 13.40 | 15.40 |
| Alp Alesch | 08.50 | 10.50 | 13.50 | 15.50 |
| Parkplatz Es-cha | 09.05 | 11.05 | 14.05 | 16.05 |
| Albulapass Hospiz | 09.10 | 11.10 | 14.10 | 16.10 |
| Preda, Crap Alv | 09.15 | 11.15 | 14.15 | 16.15 |
| Lai da Palpuogna | 09.20 | 11.20 | 14.20 | 16.20 |
| Preda Bahnhof | 09.25 | 11.25 | 14.25 | 16.25 |
Return journey Albulapass
| | | | | |
| --- | --- | --- | --- | --- |
| Preda Bahnhof | 09.35 | 11.35 | 14.35 | 16.35 |
| Lai da Palpuogna | 09.40 | 11.40 | 41.40 | 16.40 |
| Preda, Crap Alv | 09.45 | 11.45 | 14.45 | 16.45 |
| Albulapass Hospiz | 09.50 | 11.50 | 14.50 | 16.50 |
| Parkplatz Es-cha | 10.05 | 12.05 | 15.05 | 17.05 |
| Alp Alesch | 10.15 | 12.15 | 15.15 | 17.15 |
| La Punt Chamues-ch Bhf | 10.20 | 12.20 | 15.20 | 17.20 |
| Chamues-ch, plaz | 10.25 | 12.25 | 15.25 | 17.25 |